CONCERT SCHEDULE

November 15, 2014. Temple Jazz Orchestra, A Tribute to Sammy Nestico'. 'Mary Alice Marshall Performing Arts Center', Temple College, Temple TX, 7:30 pm
March 28, 2015. Temple Jazz Orchestra with special guest Ernie Watts, 'Mary Alice Marshall Performing Arts Center', Temple College, Temple TX, 7:30 pm (Final concert of the 2015 Temple College Jazz Festival).
June 6, 2015, Saturday. Temple Jazz Orchestra, with special guest saxophonist Ed Calle. 'Hit the Road' concert, 'Mary Alice Marshall Performing Arts Center', Temple College, Temple TX, 7:30 pm
June 7 - 17, 2015 . Temple Jazz Orchestra, with special guest saxophonist Ed Calle.
Colorado Tour:

June 7. 'Amarillo College', concert hall, (Washington Street Campus), Amarillo TX, 7:30 pm.
June 8. 'Soda Springs Park', Park Avenue, Manitou Springs CO, 7:00 pm.
June 9. Oak Street Plaza, Old Town Ft. Collins, Ft. Collins CO, 11:30 am - 1:00 pm
June 11. Performance Park, 417 W. Elkhorn Ave, Estes Park CO, 7:00 pm
June 13. Estes Park CO
Featured Band--2015 Big Band Bash
Performance Park
417 W. Elkhorn Ave, Estes Park, Co 80517
Ph: 970-577-9900
7:00 pm - 8:30 pm

September 19, 2015 Saturday. Temple Jazz Orchestra, with special guest trumpeter Wayne Bergeron. 'Jazz'SAlive 2015', 'Main Stage', Travis Park, San Antonio TX, 8:00 pm
November 7, 2015. Temple Jazz Orchestra, Remembering the Thad Jones-Mel Lewis Orchestra. 'Mary Alice Marshall Performing Arts Center', Temple College, Temple TX, 7:30 pm
April 2, 2016. Temple Jazz Orchestra with special guest Kevin Mahogany, 'Mary Alice Marshall Performing Arts Center', Temple College, Temple TX, 7:30 pm (Final concert of the 2016 Temple College Jazz Festival).

---

Temple Jazz Orchestra
featuring Gordon Goodwin

Captures the Spring '08 TJO Jazz Festival concert--featuring
arranger/composer/saxophonist/pianist
GORDON GOODWIN


---

---

This Is T J O

TJO up close and personal--featuring nine originals by Ben Irom, Tim Cates, Sparky Thomason, Dave Wild and others.

Jazzfest 2015

Details on the

Twenty-Fifth Annual Temple College Jazz Festival

(March 26-27-28) which features

Stefan Karlsson

and

Ernie Watts

.

---

---




TJO On YouTube

Here's TJO with Ed Calle at the 2015 Big Band Bash in Estes Park Colorado, June 13, 2015:

Here's TJO with Ed Calle at the 2012 Temple College Jazz Festival:

Here's TJO with Eric Marienthal at the 2013 Temple College Jazz Festival:

And here's TJO with Wayne Bergeron at the 2014 Temple College Jazz Festival:

For more CDs by the

Temple Jazz Orchestra

and individual TJO members, visit the

Wildmusic Store

And.....!

Here's TJO with Randy Brecker at the Northsea Jazz Festival
on July 10, 2009

---


tjo home
temple jazz festival 2014
temple jazz orchestra cd's
performance schedule/band info
tjo's electronic press kit
the tjo photo gallery
tom fairlie, tjo's director
wildmusic-jazz.com (dave wild)

---
More about the Temple Jazz Orchestra...
The Temple Jazz Orchestra, founded and directed by Thomas Fairlie, is in residence at Temple College in Temple, Texas. TJO emerged from the natural growth of the jazz program at Temple College between 1990 and 2000. Founded in 1990, what began as a collaboration of students and adult musicians from the area has metamorphosed into the premier jazz ensemble in central Texas. TJO now boasts the best professional jazz musicians and educators from an area surrounding Temple, including musicians from Waco, Killeen, Belton, Austin, San Antonio, Round Rock and other communities.
The Temple Jazz Orchestra, its members, and/or small ensembles that have spun off from the group have received recognition at several nationally known jazz festivals, including the UNC Greeley Jazz Festival, the Loyola University (New Orleans) Jazz Festival, the Sam Houston State Jazz Festival and others.

The featured band at the final concert of the Temple Jazz Festival for the past 20 years, TJO has performed with Marvin Stamm, Bob Mintzer, Russel Ferrante, Eric Marienthal, Allen Vizzuti, Bill Watrous, John Fedchock, Kevin Mahogany, Gary Foster, Ernie Watts, Lew Soloff, Frank Mantooth, Wayne Bergeron, Gordon Goodwin, Conrad Herwig, Bryan Lynch, Ed Calle, and many others.
TJO has also shared the stage on several occasions with the Temple Symphony Orchestra. The Temple Jazz Orchestra was invited to perform at the IAJE Southwest Regional Conference at Baylor University on April 16th, 2005, and performed with Bill Watrous at the IAJE Convention in New York City on January 12, 2007. TJO toured Europe for the first two weeks of July 2009, performing at the Montreux Jazz Festival (twice), at the US Mission to the United Nations (embassy) in Geneva Switzerland, at a local festival in Lyon France, and with Randy Brecker at the North Sea Jazz Festival in Rotterdam, Holland. TJO's concert at the Twentieth Annual Temple College Jazz Festival appearance in March 2010 featured guest artists Brian Lynch and Conrad Herwig. TJO returned to Europe in July 2012, playing Montreux, Jazz a Vienne, the UN General Assembly Hall in Geneva, and the Reigen Jazz Club in Vienna.
The Temple Jazz Orchestra has released 5 CDs. Two of the CDs joined TJO with frequent guest soloist Bill Watrous, and another features the compositions, arrangements, saxophone and piano of the (obviously) multi-talented Gordon Goodwin. Details of these CDs can be found elsewhere on this page..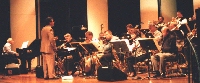 ---
For information about the Temple Jazz Orchestra, contact:
Tom Fairlie
Director, Division of Fine Arts
Temple College
2600 S. 1st Street
Temple, TX 76504
(254) 298-8555
t.fairlie@templejc.edu

Ben Irom
Director of Jazz Studies
Temple College
2600 S. 1st Street
Temple, TX 76504
(254) 298-8554
irom@templejc.edu

---
Band Member Info
The 2014-2015 Temple Jazz Orchestra:

Tom Fairlie, director

Saxophones:

Colin Mason, lead
Greg Bashara
Steve Goacher
John Fairlie
Karen Batson

Trumpets

Keith Fiala, lead
Tim Cates
Byron Swann
Lee 'Sparky' Thomason
Denise Doyle

Trombones:

Randy Zimmerman, lead
Brent Colwell
Steve Seitsinger
David Lammert
Brent Mathesen

Piano:

Dave Wild
Ben Irom

Guitar:

Reese Liles

Bass:

Vince Bryce

Drums:

Norm Bergeron

NOTE: For the 2003, 2004 and 2005 jazz festivals bassist Ken Wild substituted for TJO's bassist at the time, Steve Layne. Ken, a well-known studio musician from Los Angeles, was also a clinician for the festival. Ken may be heard on the TJO CD Bill Watrous and the Temple Jazz Orchestra..
John Coltrane |
Ornette Coleman |
Dave Wild |
Ken Wild |
TJO |
Central Texas Jazz |
Home
Dave Wild's WildPlace and its contents are protected by copyright and are published for non-commercial use only. Some of the contents of this site are based on The Recordings of John Coltrane: A Discography, (c) 1977, 1978, 1979 by David Wild and disc'ribe, Issues # 1, # 2, and # 3, (c) 1980, 1981 and 1983 by Angelyn and David Wild. All the usual legal protections apply. Click here to send mail to Dave Wild.